CLSD Calendar of Events for 2022-2023
A print version of the Cornwall-Lebanon School District Calendar of Events for 2022-2023 was mailed in August to all CLSD taxpayer homes, as well as to student families, Gold Card members and employees who reside outside the District.
To view or download a digital version (with low resolution images) of the 32-page CLSD Calendar of Events for 2022-2023, click HERE.
Holiday Breakfast Concert for District Residents Age 65+
CLSD is pleased to invite our senior residents, age 65 and older, to a holiday breakfast and choral concert in the Cedar Crest Middle School cafetorium, Tuesday, Dec. 13, 2022. Breakfast will be served at 8:00 a.m., followed by a concert of holiday music. Doors will open at 7:30 a.m. You must have a ticket to be admitted. A person under the age of 65 may attend only if accompanying his or her spouse who meets the age requirement.
Tickets may be obtained, by District residents only, by bringing completing the order form, below, and bringing it to the rear of Cedar Crest Middle School, by the cafetorium entrance, on Wednesday, Nov. 30, from 1 -1:20 p.m. Tickets are distributed on a first-come, first-served basis. A maximum of two tickets may be requested per form. Up to four forms may be redeemed per vehicle. Forms also are available to be picked up in any CLSD school building office and in the District office.
On November 30, enter the Cedar Crest High School campus from either E. Evergreen Rd. or State Drive and follow the signs to the ticket pick-up area behind the middle school. You will not need to exit your vehicle. Please note that ticket distribution will conclude by 1:20 p.m., or when all 400 tickets have been distributed. Tickets may be available after the Nov. 30 distribution date; please inquire at the District office, 105 E. Evergreen Rd., (717) 272-2031.
Click here to view or download the ticket order form!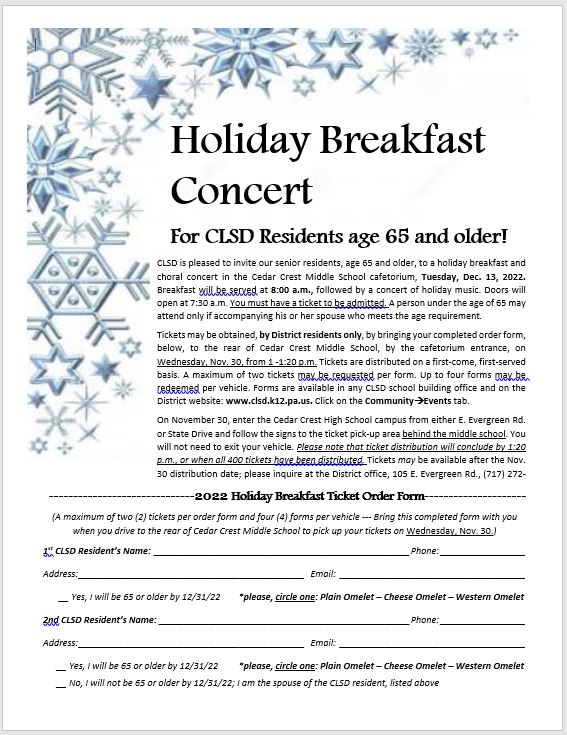 "Peter Pan" Comes to Cedar Crest HS Stage in November
Cedar Crest High School presents its fall play, November 17, 18 and 19, CCHS Auditorium, at 7 p.m. Join CCHS for a retelling of J.M. Barrie's classic story: "Peter Pan," including original music composed by Grammy Nominated musician, Cory Chisel. For this show the focus will be on the Neverland being created in the Darling children's imagination, so set pieces will be used in multiple ways, and projections will transform the nursery into the Neverland.
Tickets are available online or at the door, one hour prior to the show. Click here to order securely online: ShowTix4U – Free Online Ticketing – Schools, Community, Regional  Enter "Cedar Crest" in the Search box.
Prices are $5 for students; $10 for adults. CLSD Gold Card holders are admitted free to one performance by presenting their Gold card when picking up tickets at the Will Call window. (For reserved seating, Gold Card holders should go online in advance and select "Gold Card" after choosing seats.)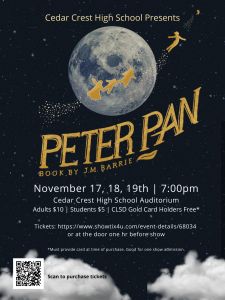 Do You Have a CLSD Gold Card?
Senior citizen residents of the Cornwall-Lebanon School District are encouraged to sign up for a CLSD Gold Card at the District office (105 E. Evergreen Rd.), weekdays between 7:30 a.m. and 3:30 p.m., by showing proof of age and District residency.
This card entitles the holder to one admission (for the card holder only) to all District-sponsored activities free of charge, including home sporting events, concerts and plays. CLSD Gold Card members also receive a printed copy of the CLSD Calendar of Events prior to the start of the school year.
Residents who have moved since they first registered for their CLSD Gold Card are asked to contact the District office to update their mailing information.