Click here to view the 2023-2024 School Calendar of Key Dates that was approved at the February 13, 2023, meeting of the CLSD Board of School Directors.
Click this link to view or download a single page graphic representation of the 2023-2024 CLSD Calendar.
Special Invitation for CLSD Veterans &
our CLSD Military families
A complimentary breakfast is planned for Thursday, Nov. 9, 2023, to honor veterans who reside within the Cornwall-Lebanon School District. Each veteran may bring one guest. District veterans are asked to call (717) 389-1810, to register and receive details prior to October 27.
We also extend this invitation to those within our district family (employees, parents/guardians of district students) who are currently serving in any branch of the United States military or National Guard. Families of CLSD students are asked to complete the Military Families Survey that will be sent via Skyward Message in early October. You will be able to make reservations on the survey to attend the breakfast.
Reservations are required by October 27 due to space and menu preparation needs.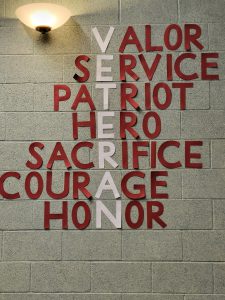 Do You Have a CLSD Gold Card?
Senior citizen residents (age 65+) of the Cornwall-Lebanon School District are encouraged to sign up for a CLSD Gold Card at the District office (105 E. Evergreen Rd.), weekdays between 7:30 a.m. and 3:30 p.m., by showing proof of age and District residency.
This card entitles the holder to one admission (for the card holder only) to all District-sponsored activities free-of-charge, including home sporting events, concerts, planetarium programs, musicals and plays. CLSD Gold Card members also receive a printed copy of the CLSD Calendar of Events prior to the start of the school year.
Residents who have moved since they first registered for their CLSD Gold Card are asked to contact the District office to update their mailing information.