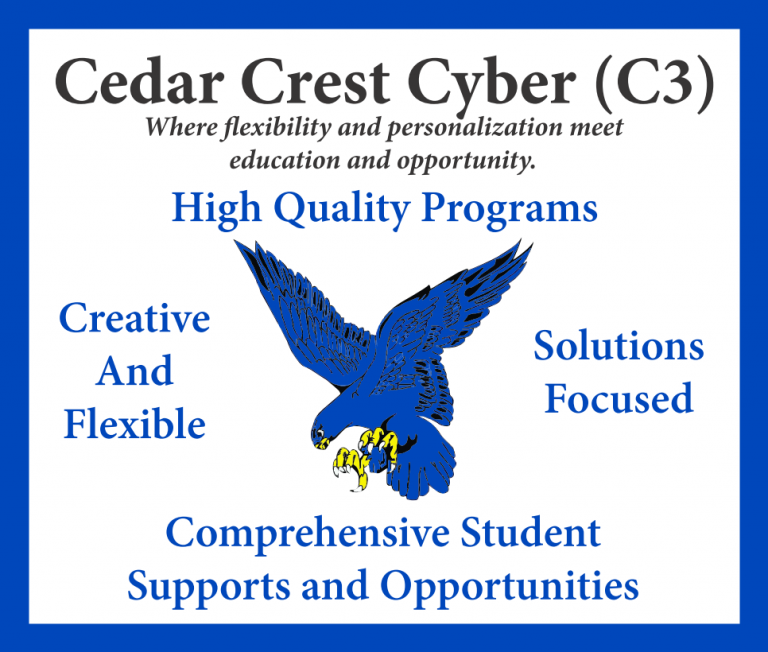 Contact Information:
Mrs. Richards – 223-241-9630
Mr. Scipioni –    223-241-9629
Office Location:
Cedar Crest High School
115 East Evergreen Road
Lebanon, PA 17042
Empowering the Next Generation of Digital Scholars:
The purpose of our Mission will be that The Cornwall-Lebanon School District is dedicated to providing an enriching and dynamic digital learning experience for students in grades K through 12.  The Cedar Crest Cyber (C3) program is to empower young minds with the knowledge, skills, and values needed to excel in a rapidly evolving world. Through engaging and interactive online education, we aim to foster a love for learning, promote critical thinking, and nurture well-rounded individuals prepared to embrace the challenges of the future.
We aspire to be the leading platform that fosters a love for learning, cultivates critical thinking, and nurtures well-rounded individuals prepared to succeed in a dynamic and interconnected world. Through innovative technology, engaging content, and a supportive community, we aim to inspire a generation of confident, compassionate, and empowered life-learners.
Contact Us Regarding Questions or C3 Interest