**April 2021 Update**
Click the Skyward Online Food Service Payments link or the document at the bottom of the page to view instructions for adding money to student accounts and where to view the current balances on accounts. Check out some other Food Service Settings to get the most out of your Skyward Family Access.
As of noon on Friday, April 30, 2021, the fee per transaction in RevTrak (the online payment system) will change from a fixed fee of $1.75 per transaction to 3.62% per transaction. Please be reminded that the online payment system is a 3rd party system and the Cornwall-Lebanon School District does not control the fee rates.
See the chart below that best describes the changes. On average, families will see an overall decrease in additional charges through the online payment system.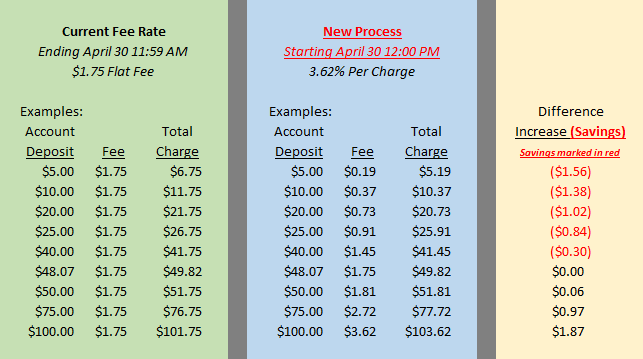 The CLSD Technology Department recommends that parents use a desktop or laptop computer to make lunch account online payments. Because of the variety of different types of cell phones which have many individual preferences/settings, they often won't work well to make such payments. If you are experiencing difficulty making payments with your cell phone, please try again using a computer/laptop.
Parents/Guardians may complete a FS-001 Refund-Transfer Request Form to request a refund or transfer of a school meal account balance. Forms also are available in the office of your child's school.