Cornwall-Lebanon School District is in the south-central part of Lebanon County, Pennsylvania, and encircles the city of Lebanon. It is part of the beautiful Lebanon Valley bounded on the north by the Blue Mountains and on the south by the South Mountains.
The center of the district is located about 25 miles equidistant from Harrisburg to the west, Reading to the east, and Lancaster to the south. View the Cornwall-Lebanon School District Map. You can also enter your address below to determine if your home is in the Cornwall-Lebanon School District.
With a student population of approximately 5037, Cornwall-Lebanon School District is the largest of six school districts in Lebanon County. Along with the other Lebanon County districts, it is a member of the Lancaster-Lebanon Intermediate Unit 13. The Lebanon County Career and Technology Center is located within District boundaries.
The school district comprises a growing and diverse population. The racial diversity of students enrolled in the district is 70.26% White; 19.44% Hispanic or Latino of any race; 3.53% Black or African American; 2.44% Asian; .08% Pacific Islander; 4.09% Multi Racial; .16% Native American. Gender breakdown is 48% female, 52% male. Currently, 773 students receive special education services, or 15.35% of the student population. In the CLSD, 95.83% of the students speak English as their primary language; the remaining 4.17% represent English Language Learners. The economically disadvantaged population is 38.29% which is calculated from the October 1, 2021, PIMS snapshot.
In 2022, a total of 232 students, or about .05% of the student population identified themselves as being part of a military family on the annual District survey. Fort Indiantown Gap (FTIG), a key installation for the Army and the Pennsylvania National Guard, is situated just 10 miles northwest of the District. The District honors these families and service members, as well as, all District resident veterans each year with a special breakfast program.
Cornwall-Lebanon School District is composed of the townships of South Lebanon, North Cornwall, West Cornwall, and North Lebanon, in addition to the boroughs of Cornwall and Mount Gretna, and a portion of the city of Lebanon known as Fairview Heights Annex.
Mt. Gretna is a beautiful summer resort area popular for its well-known summer theater, summer art show, and active Chautauqua cultural programs. The Whitaker Center, Giant Center, Lebanon Community Theater and the Hershey Theater offer cultural arts and entertainment. Lebanon Valley College and Harrisburg Community College offer educational opportunities, within a short driving distance of our district.
Cornwall-Lebanon School District is located in the heart of Pennsylvania Dutch Country, local heritage includes people from many national origins. The district consists of 70 square miles inhabited by more than 53,000 residents, including those living in several planned retirement communities, according to the 2010 Census. In addition, there are many nursing homes and personal care communities throughout the area.
The school district is unique in Pennsylvania in that both the school district population and the number of residents has increased in size. The school district encircles an urban center which will continue to affect our demographics.
Lebanon County has a vibrant industrial community. According to the Pennsylvania Department of Labor and Industry Workforce Information & Analysis data (2021), the Cornwall-Lebanon School District is the seventh largest employer in Lebanon County. Other top ten industries in the area include:
Federal Government
Farmer's Pride, Inc.
WellSpan Good Samaritan Hospital
Walmart Associates, Inc.
Bayer US, LLC
ACE Hardware Distribution Center
Lebanon School District
Swift Transportation Company AZ
State and County Government
Other notable industries include WellSpan Philhaven; GPU Energy; AES Ironwood (natural gas power plant); the Daniel Weaver Company (Lebanon Bologna); smaller companies; business parks; and many excellent family farming operations.
A community-based educational foundation, the Falcon Foundation, supports and enhances educational and enrichment opportunities (social, cultural, and athletic) for all people in the Cornwall-Lebanon community. Since its incorporation in 2000, the Foundation has supported many students and staff members with grants and awards. Deadline for fall applications each year is October 15; April 15 for spring applications.
Many capital projects throughout the District were made possible by their contributions, including:
Automated External Defibrillators (AEDs) for each district building
TV studio development and new equipment
Auditorium sound equipment
Continuous technology equipment and upgrades throughout the District
Earl Boltz Field scoreboard
Grants to community groups to build lavatory/storage/refreshment stand facilities at the playing fields on school property near each of the four elementary schools
Upgrades to CCHS planetarium
Tennis court lights
Underwriting The Falcon Perch – Coffee shop for work-based learning program
Cornwall-Lebanon School District can boast of a proud heritage with its educational roots reaching deep into the early history of America. As early as 1740, the settlers of this area established a school near Fontana. The little one-room, red brick schoolhouse (and some stone ones, too) had become permanent parts of the landscape by 1865. By 1890, a graded course of study had been introduced.
Shortly after the turn of the twentieth century, three high schools were in operation:
Bismarck (Quentin)
Hebron
Cornwall
At first, these schools offered only two years of secondary instruction; but by 1927, three years was standard for the three buildings. Construction of two, new modern consolidated schools at Iona and Cornwall was completed by 1927, and the curriculum was increased to four years.
In 1952, the school districts of West Cornwall, North Cornwall and Cornwall Borough signed Articles of Agreement to form a jointure of the three districts. North Lebanon Township entered the jointure in 1958, and South Lebanon Township became a member in 1961, at which time a formal application was made by the Cornwall-Lebanon Suburban Joint School System to the Department of Public Instruction to build Cedar Crest High School.
Because the concept of the new high school varied from state standards, special permission was sought and received from the State Board of Education and the State Superintendent of Public Instruction to construct a compact climate-controlled building, the first of its kind in Pennsylvania.
The groundbreaking ceremony for Cedar Crest High School was held in March of 1964. Although Cedar Crest High School came into existence in September of 1965, the students coming to the high school that Fall did not enter the new building on East Evergreen Road, as it had not yet been completed. During the 1965-66 school term, all students in grades 10, 11, and 12 attended classes in the Cornwall High School building. By the spring of 1966, the building was completed and commencement exercises for the Class of 1966 were conducted in the gymnasium of the new Cedar Crest High School building.
In July 1966, a merger of all the districts in the jointure and Mt. Gretna was effected, and the name was changed to Cornwall-Lebanon School District, now operating under a nine-member school board and a district superintendent.
The District buildings currently include:
Cedar Crest High School
Cedar Crest Middle School
Cornwall Elementary
Ebenezer Elementary
South Lebanon Elementary
Union Canal Elementary
In 2019, the District purchased at auction the 89.5-acre farm located directly across from the Cedar Crest campus in consideration of potential future land needs. The District has a long-term building project and renovations continuum. In 2021, the Union Canal Elementary School renovation was completed. Planning has begun for a renovation project on the Cedar Crest campus, which is expected to begin during the 2024-2025 school year.
The school district is home to a number of historically famous or nationally known sites, including:
Cornwall Iron Furnace
Miners Village
Union Canal Tunnel
Farmers Market
Cornwall Iron Furnace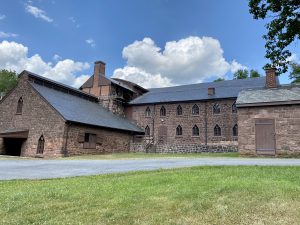 Cornwall Iron Furnace, the only preserved charcoal, cold-blast iron furnace in the Western Hemisphere, is located in Cornwall. Cannon and shot were manufactured there to support George Washington during the Revolutionary War.
Miners Village
Union Canal Tunnel
Farmers Market
In addition to WellSpan Good Samaritan Hospital and Lancaster General Health, the District also is home to the Veteran's Administration Hospital and WellSpan Philhaven. A professional medical/dental park is centrally located in the District. Access to other fine medical facilities and hospitals, such as the Penn State Milton S. Hershey Medical Center, are within a short driving distance.
Shopping opportunities include several multi-store shopping areas and many large stores, such as Walmart Supercenter, Home Depot, and Lowe's. A variety of eateries are available, as well as fine dining establishments, such as Tony's Mining Company, Trattoria Fratelli, and Timbers Dinner Theatre.