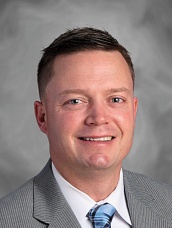 Dear Parents/Guardians:
Welcome! On behalf of the staff at Union Canal Elementary School, I am happy to welcome you to the 2021-2022 school year!  We are incredibly excited to start this new school year with you.  Our staff of highly qualified professional educators and support personnel is committed to providing our students many opportunities both inside and outside of the classroom. We invite and encourage students and parents to work in partnership with us to seize these wonderful opportunities of growing together and learning.
Spending 20+ years in education I have never been so excited for our school children.  I am blessed to lead our staff and students at a place alive with energy, enthusiasm, and a high standard of excellence. The elementary years are critical times of development for students and families alike, and I look forward to working with all of you to make this year successful. 
Please know that we highly value home/school communication here at Union Canal. It is vital and plays an integral role in each student's success. We encourage you to contact us if/when the need arises, and to stay in the know about your child's studies, assignments, assessments, and school activities, as well as other events and happenings. I truly believe that good communication is the key to a successful educational experience.
I invite you to become an active participant in our school community through volunteering, joining and or helping with our PTT (Parent, Teacher, Together), or attending and supporting our school events. Research clearly supports that when parents/guardians participate and are involved in their child's education, there is a greater likelihood of academic success.
Again, I welcome you to Union Canal Elementary School and to our wonderful community. We thank you for your continued support and look forward to a productive school year.
Sincerely,
Bernard J. McGinty, M.Ed.
Principal